Are you ready for the biggest sale event of the year? With Black Friday season right around the corner, it is time to start planning your shopping trips. While some shoppers are mapping routes that will take them all across the city, visiting different stores and fighting crowds throughout Vancouver, Park Royal offers the best deals all in one convenient location. If you have your eye on the newest virtual reality technology, are looking to update your winter wardrobe or are hoping to get ahead of the holiday shopping season, you can do it all at Park Royal.
Black Friday Shopping: Online vs. In-Store
For online retailers, Black Friday and Cyber Monday are the biggest shopping events of the year but these sales can also be overwhelming for online platforms. Getting a sale price on an item is great but there is nothing more satisfying than being able to walk out of a store with your newly purchased item in tow and ready to use. Shopping online means having to wait for delivery, not being able to test products to ensure functionality and can lead to unintentional overspending. Instead of dealing with the consequences of an online shopping spree, visit Park Royal instead!
With over 200 stores, Park Royal Shopping Centre has something for everyone. Whether you are focused on electronics, toys, home decor or are wanting to update your wardrobe with trendy new pieces, you have plenty of options to choose from.
Black Friday is the sale event of the year and Park Royal doesn't believe in limiting this annual event to a single day. While our Black Friday deals start on Friday November 24, they extend through the weekend. If you are ready for a long weekend of sales, look no further than your local West Vancouver shopping centre.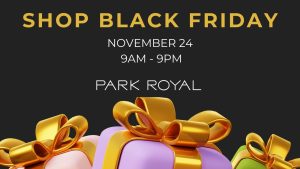 Park Royal Shopping Centre: Planning Your Ideal Shopping Trip
Over the years, Black Friday has developed a reputation for crazy crowds and stampeding shoppers but this isn't the case at Park Royal. Our expansive shopping centre has plenty of room for you to stretch your legs and enjoy your shopping experience. Instead of shuffling from one shop to another in search of Black Friday sales, Park Royal turns the day into a great experience.
Step 1: Review our online store directory for a full list of stores
Step 2: Create your Wishlist
Step 3: Visit Park Royal Shopping Centre (don't worry, there is ample parking, too!)
Step 4: Enjoy the shopping experience
Step 5: Enjoy a post-shopping meal at one of our many eateries
Don't spend your Black Friday fighting crowds in claustrophobic storefronts or driving from mall to mall when Park Royal Shopping Centre is your one-stop shop for gift buying for friends, family and even yourself!