Park Royal opened in the Fall of 1950 and was Canada's first enclosed shopping centre! Since that time we have undergone lots of changes. Today Park Royal is home to a vast mix of unique and popular brands, shops, restaurants & services. From fashion & electronics to beauty, home goods, sports, lifestyle & grocery, it's all here! You can even shop for a car at our Tesla showroom or eat at one of over 37 dining establishments, including 10 patios. Or take in a box office hit at our brand new Cineplex VIP Cinemas!
Park Royal covers a large area with multiple indoor/outdoor shopping & dining areas to explore and enjoy. Park Royal South and The Village at Park Royal are on the lands of the Squamish Nation. Park Royal South is a newly expanded and modernized indoor/outdoor blend of shopping & dining. It features a mix of best-in-class fashion brands as well as a modern food court PICNIC plus numerous full service dining options. The Village at Park Royal is a community unto itself – a truly unique neighborhood experience. This open-air destination has everything you could possibly need. Come enjoy a pedestrian friendly outdoor shopping environment with a diverse mix of retailers and dining options providing something for every lifestyle. Park Royal North has been completely redeveloped and is now home to PetSmart, Starbucks, Chipotle, Loblaws City Market, Saks OFF 5th, Hudson's Bay, BC Liquor Store and London Drugs.
There is so much more to know about Park Royal. See below for a timeline of our history.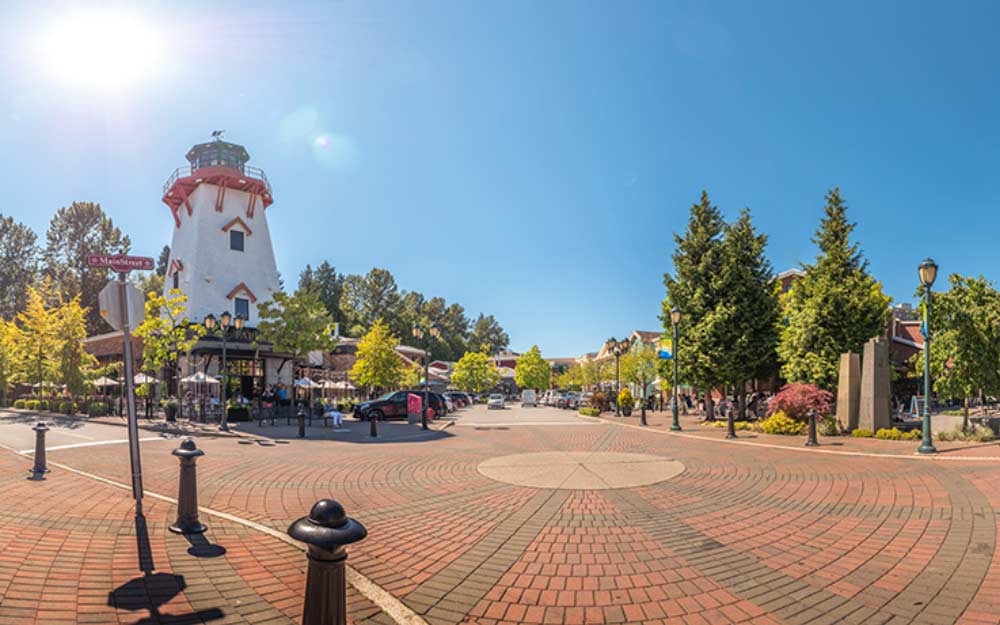 History
Park Royal was conceived in the late 1940's by British Pacific Properties (BPP), a company owned by the Guinness family, best known for their world famous Guinness beer brewed in Britain and Ireland. As a matter of fact the origin of the name "Park Royal" is related to a Guinness brewery. At the time the shopping centre was being built, the then head of the Guinness family, the Earl of Iveagh, suggested the name because the British brewery was located in the "Park Royal" District of London.
Prior to Park Royal being conceived, BPP constructed the Lions Gate Bridge in the 1930's in order to link their large real estate holdings on the North Shore to the Vancouver mainland. This opened up residential development across the North Shore through the 1940's, the need to provide the community with stores and services became apparent and the vision of Park Royal was born.
In August, 1949 Park Royal broke ground with the Honourable W. C. Woodward turning the shovel with his son, a very young Charles "Chunky" Woodward beside him.
This first phase of Park Royal included Woodwards department store, a Woodwards food store and 25 other stores and services. The total project was 120,000 square feet built on 11 ½ acres for a cost of $1.5 million.
Park Royal opened for business in the Fall of 1950.
A few years later Park Royal Shopping Centre expanded on the south side of Marine Drive, opening The White Spot in 1955 and it was the first seed for what later became Park Royal South.
In 1961 an overpass was constructed creating a formal link to the two properties across Marine Drive and Park Royal's north and south malls got their start. Both the White Spot and the overpass continue to operate today.
In the late 1950's a landmark agreement took place and on August 4, 1961 Chief Mathias Joe turned the shovel on property leased by BPP from the Squamish Nation. The lease agreement entered into was for 99 years.
In 1962 construction of the south mall was completed, it was anchored by Eaton's on the west end and Super Valu on the east.
In 1964 Park Royal North was expanded, a new Woodward's food floor was constructed, bowling lanes and Famous Players were added to the south mall and the shopping centre was equipped with a helicopter pad to service the Canadian Coast Guard's search and rescue missions.
In 1969 the north mall went through yet another expansion. This time it was converted from an unenclosed strip centre to an enclosed shopping centre and Woodward's expanded again.
In 1977 development swung back to the south mall. The shopping centre got a new Hudson's Bay Department store and a second level.
In 1992 Park Royal, now owned by The Larco Group, was the first regional shopping centre in Canada to make externalization the major focus of Park Royal's retail design.
The Village at Park Royal, an exclusively open-air shopping area, opened in September 2004 and has been a hit since day one.
Building on the success of The Village, Park Royal embarked on an expansion of this unique outdoor environment to the east and completed its newest outdoor village retail expansion in 2014.
In October of 2015, a renovation and redevelopment of all of Park Royal South was completed with the opening of the Canadian department store Simons as its newest anchor.
In 2016, Park Royal North underwent an entire change, introducing a new Loblaw's City Market as well as Steve Nash Sports Club, a new BC Liquor Store and Saks Off 5th which was completed in late 2017.
Cineplex Cinemas and VIP opens April 3, 2019 with 11 screens, including 4 VIP.