People from all over the world flock to the West Coast to enjoy beautiful weather and even better views. BC has a reputation for rain but from the early days of spring, through October, it is patio season! In a province known for its food and drink, outdoor dining restaurants have found a way to combine the best of the best in West Vancouver. When you want to enjoy patio season, don't settle for cramped spaces or exhaust fumes when you can visit Park Royal instead.
Everyone knows that food is fuel for a healthy body and there are plenty of benefits of spending time outdoors, so why not combine the two? Most restaurants are air conditioned to keep diners comfortable but that air is recycled and often stale. Fresh air is better for your health and your mental state. Eating outdoors can aid in decreasing stress and allows diners to unwind and relax.
Outdoor Eating at Park Royal: Outdoor Patio Dining for Every Lifestyle
The outdoor seating areas at Park Royal are more than just a few tables and chairs that have been placed outside. Patio dining areas have been designed for the comfort of guests but also to maximize the unique features of the sprawling shopping centre and its surrounding area. Take in attractive architecture and beautiful views, all while enjoying delicious food and beverages from your restaurant, bar or lounge of choice.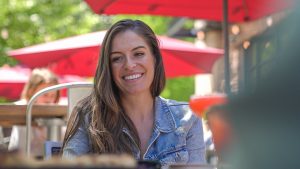 Whether you are soaking up the sunshine on a bike, have exhausted yourself after a shopping trip or are looking for a delicious dinner after seeing a film, there are plenty of options at Park Royal. If you are wanting to refuel after a hike or bike ride, nothing beats a craft beer and hearty burger. A long day of shopping can be capped off with happy hour complete with live music, and nothing says date night like food and wine pairings. No matter your cuisine of choice, there is something for everyone at Park Royal.
Instead of offering one option for diners, Park Royal offers a variety of options made to suit the tastes of anyone and everyone.
Patio Seating & Excellent Eats
When dining out, atmosphere is everything. Patio seating allows diners to experience the personality of their chosen restaurants but it also allows them to enjoy the sunshine, fresh air and views that Park Royal has to offer. Cater your eatery choice to your audience, occasion or food preferences.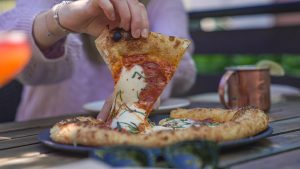 The Keg is the ideal place for a date night. An extensive cocktail list and fan favourites like surf and turf make any evening out into a special occasion. Trattoria offers up traditional Italian fare with expertly paired wines so diners can experience an Italian vacation in the heart of West Vancouver. The Village Taphouse is the ideal place to meet friends for a casual lunch or experience a new craft brewery from their local draughts selection. For late night eats, nothing beats a visit to Cactus Club or Milestones for delicious appetizers, seasonal specials, mains and a large selection of cocktails.
In addition to restaurant seating, Park Royal offers a large outdoor area that is perfect for a picnic outdoors or a place to soak up the sun while enjoying one of our many food court options. When you want to make the most out of the patio season in West Vancouver, visit Park Royal and choose from a selection of seasonal menus with entrées and beverages made to enhance the season.