The holiday season is finally here. Finding creative ways to get loved ones the perfect gift while being mindful of your budget can be challenging. As you do your holiday shopping in the West Vancouver area, sustainable shopping decisions can be more affordable and better for the environment, especially when it comes to electronics.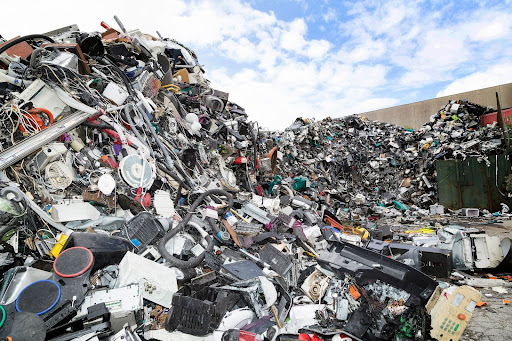 The Problem: Impacts of E-Waste
The term "e-waste" refers to electronic devices that have reached the end of their useful life and are ready for disposal. This definition includes cell phones, laptops and tablets that can be reused or recycled. E-waste contains a variety of hazardous substances such as lead, arsenic, mercury and cadmium. These toxic substances can leach into groundwater or surface water when thrown out and discarded in landfills and can cause serious health problems for humans and animals who come into contact with them.
Unfortunately, our e-waste footprint in Canada is one of the biggest in the world, with Canadians generating an average of 725,000 tonnes of e-waste each year. On average, we only keep our cell phones for two years before throwing them away. If phones are not traded in or thrown away sustainably, they add to the e-waste problem. In addition, buying a brand-new phone takes something off the shelf that could add to the environmental issues in the phone buying and selling cycle.
What is a Certified Pre-Owned (CPO) Device?
As mentioned, many devices are discarded every year. To make a conscious effort not to contribute to this issue, consider going the Certified Pre-Owned (CPO) route when you're doing your holiday shopping to purchase a new phone. CPO are fully recycled phones that disrupt the environmental impact cycle of e-waste by preventing mobile phones from ending up in landfills and other waste receptacles. These smartphones otherwise would have been thrown away, but instead, they have been upcycled and refurbished back to like-new quality.
Some shoppers may be wary of purchasing Certified Pre-Owned phones as they are under the assumption there is a difference in quality. However, if buyers purchase a CPO from a trusted retailer they can be assured they are getting a great quality phone at a much lower price than a new phone.
At Mobile Klinik, they sanitize, factory reset, clear all settings to ensure there are no data security risks, and professionally refurbish each device. In addition, each device goes through a 34-point inspection by a trained, professional technician.
As a result, they are fully functional, unlocked, safe and ready to use, which are essential factors when purchasing a new phone. In addition, they are a leading phone retailer in the industry that provides a one-year warranty for all their devices. Therefore, the Certified Pre-Owned route is both an environmentally friendly and budget-friendly decision for Holiday phone shoppers.
Why Choose Mobile Klinik?
When it comes to Certified Pre-Owned devices, it's crucial to buy from a retailer you can trust. Mobile Klinik is Canada's leader in smartphone repair, refurbishment, and resale, dedicated to leading sustainability in the mobile phone and tablet market. Buying a Pre-owned smartphone from us can save you hundreds of dollars compared to buying a new phone. It will also guarantee that professionals will rigorously test and fix your purchase if needed.
Another reason why Mobile Klinik is a financially conscious choice is that they will help you trade in your phone in exchange for a prepaid Visa cash card that can be used anywhere Visa is accepted. They will add your old device to their roster of high-quality CPO devices while keeping it from ending up in a landfill. Mobile Klinik partners with the best e-waste recyclers to recycle devices responsibly, no matter where you purchase your device from.
We encourage you to step out of your comfort zone this holiday season and continue incorporating sustainable shopping practices!
About Mobile Klinik 
Founded in 2015, Mobile Klinik is Canada's leader in professional smartphone and tablet repair, refurbishment and resale with over 100 convenient locations from coast to coast and an online store. With over 500 team members across Canada, we are committed to providing Canadian consumers and businesses with flexible and affordable options to repair, buy, sell, protect and connect their wireless devices. For more information about Mobile Klinik, please visit www.mobileklinik.ca, and follow us @MobileKlinik on Twitter and Instagram.