Seasonal Trends for Fall
by Nathalie Rees
Fall Fashion! Always, the most fun (and flattering) time of year to show off your favourite styles, but if you're like me, you've probably spent the whole year in anything but stylish clothing and probably haven't spent much time digging into the fashion files to figure out what being stylish is going to look like this Fall.
Well, fear not, because I've done all the work for you! I spent the day with some of Park Royal's most stylish stores figuring out what the must have looks and trends are this year!
SAY GOODBYE TO THE SKINNY
Truthfully, this makes me tear up a little because skinny jeans will always hold a special place in our hearts, but this Fall, looser styles like mom jeans, flares and bootcut are the way to go.
My suggestion when wearing these looser styles is to pair with an oversized tee, cropped sweater or buttoned blouse tucked in.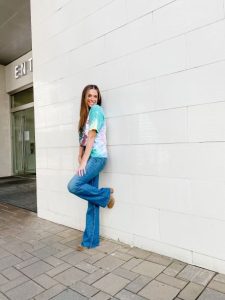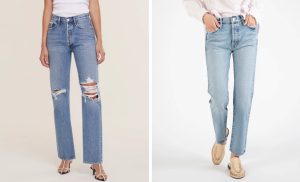 Product from Hills Dry Goods:
Tee by DayDreamer | Jeans by AGolde | Jeans by Mother Denim
LAYERS
The true reason that Fall Fashion is the best: LAYERS! It's such a great way to wear many different pieces and makes dressing for in between weather really easy!
When layering this season, don't be afraid of putting bulkier pieces together like loose jeans, a chunky knit sweater, wool shacket (yes, these are absolutely still in this year), chunky boots and even layered chains to make your layering look complete.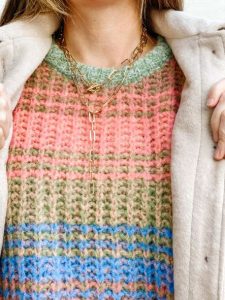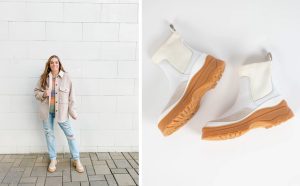 Product from Hills Dry Goods:
Shacket by Velvet | Sweater by Velvet | Jeans by Frame | Boots by Rachel Comey
MATCHING SETS
While mixing and matching is always fun, this year, matching sets are here to make your daily outfit selection a whole lot easier.
These sets tend to be more relaxed and comfier in nature, but can be dressed up by pairing a chunky boot, teddy coat and oversized scrunchie!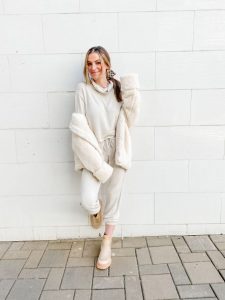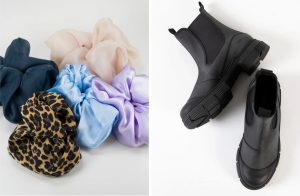 Product from Hills Dry Goods:
Set by Stark | Jacket by Velvet | Boots by Rachel Comey | Scrunchie by Bronze Age | Boots by Ganni
STATEMENT OUTERWEAR
One of my favourite trends is outerwear that makes heads turn! That's right, this Fall when choosing your seasonal coats, go all out! Everything from statement plaid, long leather, denim dusters, shearling details, supersized puffers and oversized furry coats are fair game and so much fun!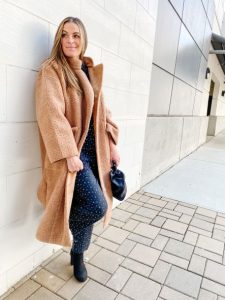 Product from Hills Dry Goods:
Jacket by A Piece Apart | Romper by A Piece Apart | Bag by Bronze Age
COLOUR PALETTE
Get ready to add some colour to your wardrobe this Fall! Colours like Mykonos blue, fuchsia fedora, pale rosette, fire whirl red and illuminating yellow are all trending this season! But, my favourites this year are sundried clay, olive branch green and lavender (which is 100% the new pink btw)! So, instead of choosing closet staples like black, white and grey, look to get some pops of these colours in your skirts, sweaters and accessories.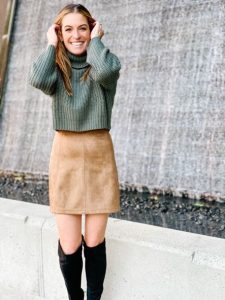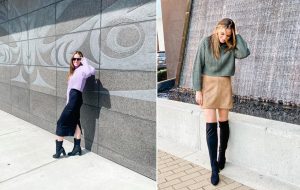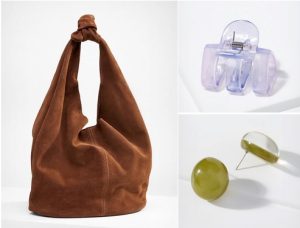 Product from SIMONS
BE A KNIT WHIT
As Women's Wear Daily put it, "The unifying fashion trend of every city for fall 2021 is undoubtedly knits" and they are so right! If it's knit, it's in and right now, you can find fun knits in everything from dresses, sweaters and oversized dusters!
To make your knits even more stylish, pair them with items like destructed denim, soft cotton shirts, felt hats, and brushed leather!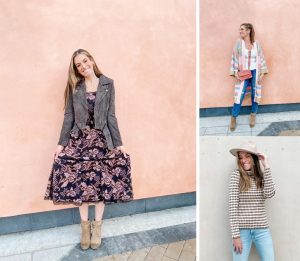 Product from Anthropologie
Last but definitely not least, Fall Fashion is all about what makes you feel good and the best thing about the trends this year is that there are so many that you'll undoubtedly find the perfect ones for you. So, have fun and enjoy the new season. I can't wait to see your stylish Fall looks!
Xo, Nat